Carts & Display Services for your Unique Needs
DNA Transcomp is capable of producing a wide array of custom wire frame displays according to your specifications. We are able to manufacture an assortment of sizes, shapes,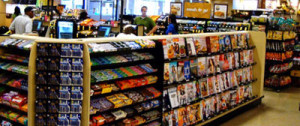 colors that are applicable to nearly limitless uses. Our custom wire frame displays are commonly used as P.O.P. (Point of Purchase) displays for displaying store merchandise, and can be powder coated custom colors and printed with custom graphics / signage.
In addition to our custom capabilities, we also have a multitude of ready-made stock wire frame displays for general use. These stock wire frame displays can be used to showcase nearly any handheld merchandise and are ready to ship to your location.  We  specializes in custom wire displays that can be used for many applications including P.O.P. (point of purchase), storage, cabinets, bins, racks and so much more.  We also offer a variety of food service equipment products including food service equipment, carts, dollies and shelving.
Our Unique Like You Services Offer:
Building Design
Graphics & Signage
Warehousing>
Straight & Cut Wire
Powder Coating
Shipping
Manufacturing
For more information  LITERATURE REQUEST HERE